---
Work Order Management
GIS becomes an invaluable tool when it is the heart of your work order management system. A work order system linked to a GIS, not only provides a digital record, but one that is spatially linked providing a powerful visual component. InVision has implemented and customized successful GIS-centric work order management systems for utility systems.
When selecting a feature on your map, such as a hydrant, you can see the previous work has been done on that feature and issue a new work order. Conversely, select a series of work orders (ex. Jetting) and have those pipes highlighted on the map. From there, use the map functions to sum up the miles of pipe that have been cleaned so far this year.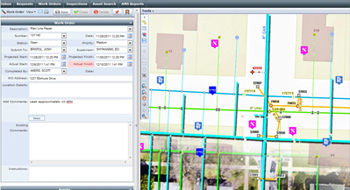 Use the work order system to keep track of your labor, material, and equipment costs. Year end, your budgeting is summarized by work order activity with all costs you have tracked throughout the year. Use your work order system to give the statistics needed by councils and boards to explain the growing expense of maintenance and repairs.
Link your work order to mapped features
Search for work orders based on mapped features
Build your maintenance schedule based on map locations
Search your GIS based on work order query results
Track all of your costs per feature and work order type
Use your work order system combined with your GIS to justify rate increases or emergency replacements